Salam,
After nothing with update, now i've come up with the new (used actually) suspension upgrade. This project had been in my mind along time ago, since my custom absorber leak. This used set of GAB SL Series which adjustable absorber type hopefully meet my need. let have a look a lil' will ya..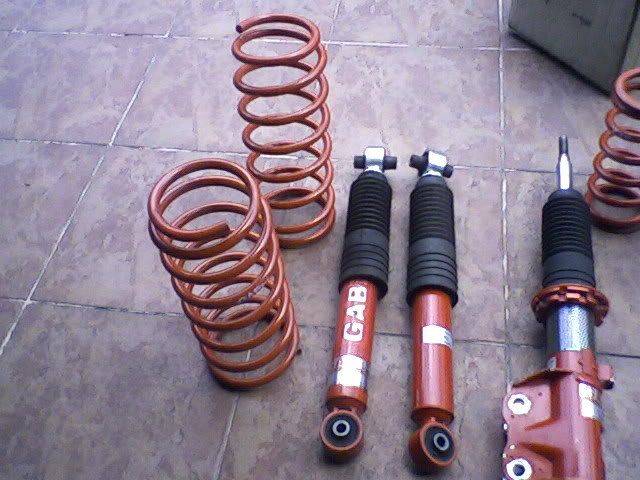 rear suspension
front suspension
Installation?
erm... maybe take a while since i've to save some for the upcoming 25hb (tunggu gaji la). hehehe
here, i would like to thanks my friend mr. software70 aka safuan for selling me this absorber. hehehe....
this is more info regarding this absorber..
Part No. :

GSL-P8989

Series :

SL Series

Car Make :

Proton

Car Model :

Saga 91'-07'
Iswara

Spring Rate (Front) :




Spring Rate (Rear) :



Item includes:
Front height adjustable shock absorber x2 (with spring)
Rear short-stroke shock absorber x2 (with spring)
Height adjustment special tool x2

Auto Valve Control Stability - AVCS
AVCS is the latest result of our constant R&D effort. With GAB AVCS you can now feel the difference on uneven road, bumpy road, pothole, high-speed corners and highways. The damping and rebound force is automatically turned by AVCS to suit all road conditions. AVCS is an internal system that adjusts the stiffness of the suspension. It uses multiple layer valve spring to sense the road condition and automatically reduces or increase damping force according to the road condition and your driving style. The result is superior handling and maximum comfort on all road condition without having to manually tune or adjust the absorber.

Crisp & Sporty Performance
Compact cars tend to have instability behavior as their center of gravity is bit high. SL series with Auto Valve Control Stability (AVCS) provides crisp yet stable ride, which drivers can clearly feel even when just making a turn at an intersection.

Handsome Lowered Style
Lowering down gives sharp and dynamic appearance to compact vehicles.

*Specially design for PROTON & PERODUA cars
more detail, refer here... GAB SL Series For Proton Saga/Iswara

*mcm biasela, utk full view klik je kat gambar tu. tq